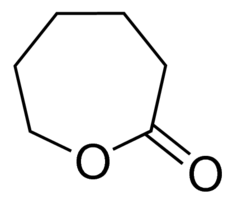 ε-Caprolactone CAS 502-44-3
Identification
CAS Number
502-44-3
Name
ε-Caprolactone
Synonyms
ε-Caprolactone
1,6-hexanolide
106919 [Beilstein]
207-938-1 [EINECS]
2-Oxepanon [German] [ACD/IUPAC Name]
2-Oxepanone [ACD/Index Name] [ACD/IUPAC Name]
2-Oxépanone [French] [ACD/IUPAC Name]
502-44-3 [RN]
5-17-09-00034 [Beilstein]
56RE988L1R
6-Hexanolactone
6-hydroxyhexanoic acid lactone
6-hydroxyhexanoic acid, ε-lactone
caprolactona [Portuguese]
caprolactone [Wiki]
E-CAPROLACTONE
e-Hexanolactone
Hexamethylene oxide, 2-oxo-
Hexanoic acid, ε-lactone
MFCD00003267 [MDL number]
Oxepan-2-on
oxepan-2-one
UNII-56RE988L1R
ε-Caprolactone
ε-Kaprolakton [Czech]
&ε;-caprolactone
??-Caprolactone
^e-caprolactone, 99%
1-Oxa-2-oxocycloheptane
2-oxacycloheptanone
2-oxohexamethylene oxide
3-Ethoxyacrylic acid [ACD/IUPAC Name]
695-06-7 [RN]
6-Caprolactone
6-Hexanalactone
6-Hexanolactone (en)
6-hexanolactone 99%
6-Hexanolide
6-hydroxyhexan-6-olide
CAPROLACTONE FUNCTIONALIZED DIGLYCOLIC ACID DIACID
ECE
hexan-6-olide
hexano-6-lactone
Hexanoic acid, 6-hydroxy-, lactone
Hexanoic acid, 6-hydroxy-, ε-lactone
Hexanoic acid, 6-hydroxy-, ε-lactone
hexanoic acid, ε-lactone
hmdb
ε-​Caprolactone
PCL
Placcel M
poly(caprolactone), flakes
Polycaprolactone (Med MW)
POLYCAPROLACTONE AVERAGE MN CA. 42 500
ε-​caprolactone
ε-caprolactone
ε-caprolactone 99%
ε-caprolactone monomer, 99%
ε-caprolactone,99%
ε-Hexalactone
ε-Kaprolakton
SMILES
C1CCC(=O)OCC1
StdInChI
InChI=1S/C6H10O2/c7-6-4-2-1-3-5-8-6/h1-5H2
StdInChIKey
PAPBSGBWRJIAAV-UHFFFAOYSA-N
Molecular Formula
C6H10O2
Molecular Weight
114.142
EINECS
207-938-1
Beilstein Registry Number
106919
MDL Number
MFCD00003267
Properties
Appearance
Transparent, colorless or pale yellow liquid
Melting Point
-1 °C
Boiling Point
97-98 °C/15 mmHg(lit.)
Density
1.03 g/mL at 25 °C(lit.)
Safety Data
Symbol

GHS07
Signal Word
Warning
Hazard statements
H319
Precautionary Statements
P280-P305 + P351 + P338-P337 + P313
Personal Protective Equipment
Eyeshields, full-face respirator (US), Gloves, multi-purpose combination respirator cartridge (US), type ABEK (EN14387) respirator filter
RIDADR
NONH for all modes of transport
WGK Germany
1
Specifications and Other Information of Our ε-Caprolactone CAS 502-44-3
Identification Methods
GC
Purity
≥99.50%
Color
≤10Hzzen
Water
≤0.05%
Acidity
≤0.3mgKOH/g
Shelf Life
1 year
Storage
Store at room temperature; Sealed and away from light.
Productivity
1MT/month
Known Application
The product is a new type of polyester monomer, mainly used in the production of synthetic rubber, synthetic fiber and synthetic resin; also used in the manufacture of caprolactam, adipic acid, binders, coatings, epoxy resin thinners and solvents; Various resin blends improve their gloss, transparency and release.
Links
Watson International Ltd
This product is sold exclusively through our sales company Watson International Ltd, and please click the link below for details.
http://www.watson-int.com/ε-caprolactone-cas-502-44-3/