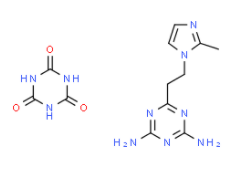 1,3,5-Triazine-2,4,6(1H,3H,5H) CAS 68490-66-4
Identification
CAS Number
68490-66-4
Name
1,3,5-Triazine-2,4,6(1H,3H,5H)
Synonyms
1,3,5-Triazinan-2,4,6-trion –6-[2-(2-methyl-1H-imidazol-1-yl)ethyl]-1,3,5-triazin-2,4-diamin (1:1) [German] [ACD/IUPAC Name]
1,3,5-Triazinane-2,4,6-trione – 6-[2-(2-methyl-1H-imidazol-1-yl)ethyl]-1,3,5-triazine-2,4-diamine (1:1) [ACD/IUPAC Name]
1,3,5-Triazinane-2,4,6-trione – 6-[2-(2-méthyl-1H-imidazol-1-yl)éthyl]-1,3,5-triazine-2,4-diamine (1:1) [French] [ACD/IUPAC Name]
1,3,5-Triazine-2,4,6(1H,3H,5H)-trione, compd. with 6-[2-(2-methyl-1H-imidazol-1-yl)ethyl]-1,3,5-triazine-2,4-diamine (1:1) [ACD/Index Name]
1,3,5-Triazine-2,4,6(1H,3H,5H)-trione, compd. with 6-2-(2-methyl-1H-imidazol-1-yl)ethyl-1,3,5-triazine-2,4-diamine (1:1)
1,3,5-Triazine-2,4,6(1H,3H,5H)-trione,compd.with6-2-(2-methyl-1H-imidazol-1-yl)ethyl-1,3,5-triazine-2,4-diamine(1:1)
68490-66-4 [RN]
SMILES
O=C1NC(=O)NC(=O)N1.n1c(nc(nc1N)N)CCn2ccnc2C
StdInChI
InChI=1S/C9H13N7.C3H3N3O3/c1-6-12-3-5-16(6)4-2-7-13-8(10)15-9(11)14-7;7-1-4-2(8)6-3(9)5-1/h3,5H,2,4H2,1H3,(H4,10,11,13,14,15);(H3,4,5,6,7,8,9)
StdInChIKey
CFSJAORJCPGPFP-UHFFFAOYSA-N
Molecular Formula
C12H16N10O3
Molecular Weight
348.32
Properties
Appearance
White crystal
Melting Point
>260℃
Solubility
Slightly soluble in water and ethanol, difficult dissolve in organic solvent.
Safety Data
RIDADR
NONH for all modes of transport
WGK Germany
3
Specifications and Other Information of Our 1,3,5-Triazine-2,4,6(1H,3H,5H) CAS 68490-66-4
Identification Methods
HNMR, HPLC
Purity
99% min
Particle Size
DN90 < 10μm
Shelf Life
3 years
Storage
Supplied in 25 Kg cardboard drum, or user specified packing. should be stored in dry, cool, avoid light and high temperature.
Known Application
This product is an important latent curing agent for epoxy resin. the curing temperature is between 120-140 ℃, of which the activity is moderate in the range of 120-125 ℃, and higher in the range of 125-140 ℃. The latency period can reach 3-5 months, and the gel time at 150 degrees is only 60-100 seconds. It is an ideal one component latent curing agent. It is a good curing agent in powder coatings, electronic potting and encapsulation and prepreg material for aerospace, and also an ideal curing agent in copper clad laminate, concrete, adhesive and other fields.
Links
This product is developed by our R&D company Watson International Ltd (https://www.watson-int.com/).