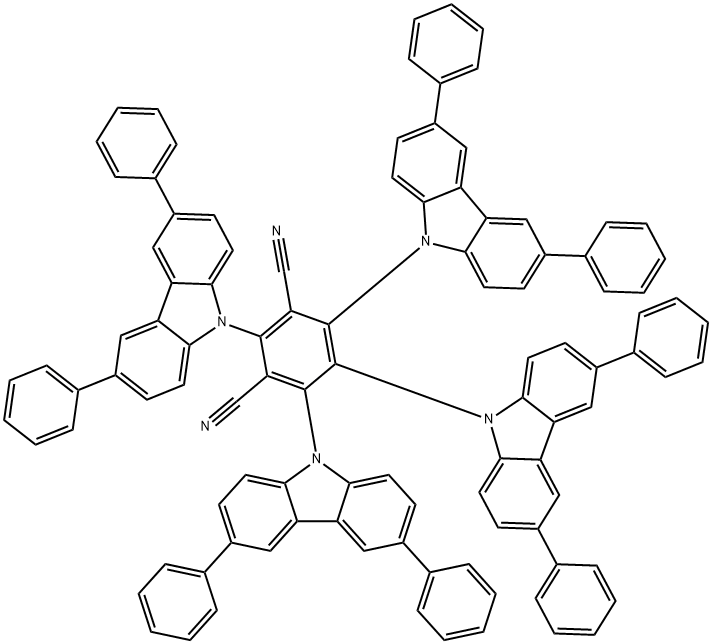 2,4,5,6-Tetrakis(3,6-diphenyl-9H-carbazole-9-yl)isophthalonitrile CAS 1469705-37-0
Identification
CAS Number
1469705-37-0
Name
2,4,5,6-Tetrakis(3,6-diphenyl-9H-carbazole-9-yl)isophthalonitrile
Synonyms
2,4,5,6-tetrakis(3,6-diphenylcarbazol-9-yl)benzene-1,3-dicarbonitrile
4CzIPN-Ph
SMILES
C1=CC=C(C=C1)C2=CC3=C(C=C2)N(C4=C3C=C(C=C4)C5=CC=CC=C5)C6=C(C(=C(C(=C6C#N)N7C8=C(C=C(C=C8)C9=CC=CC=C9)C1=C7C=CC(=C1)C1=CC=CC=C1)N1C2=C(C=C(C=C2)C2=CC=CC=C2)C2=C1C=CC(=C2)C1=CC=CC=C1)N1C2=C(C=C(C=C2)C2=CC=CC=C2)C2=C1C=CC(=C2)C1=CC=CC=C1)C#N
StdInChI
InChI=1S/C104H64N6/c105-65-91-101(107-93-49-41-75(67-25-9-1-10-26-67)57-83(93)84-58-76(42-50-94(84)107)68-27-11-2-12-28-68)92(66-106)103(109-97-53-45-79(71-33-17-5-18-34-71)61-87(97)88-62-80(46-54-98(88)109)72-35-19-6-20-36-72)104(110-99-55-47-81(73-37-21-7-22-38-73)63-89(99)90-64-82(48-56-100(90)110)74-39-23-8-24-40-74)102(91)108-95-51-43-77(69-29-13-3-14-30-69)59-85(95)86-60-78(44-52-96(86)108)70-31-15-4-16-32-70/h1-64H
StdInChIKey
JKYHVKMIXLRMJW-UHFFFAOYSA-N
Molecular Formula
C104H64N6
Molecular Weight
1397.66
Properties
Appearance
Yellow to orange solid
Safety Data
RIDADR
NONH for all modes of transport
WGK Germany
3
Specifications and Other Information of Our 2,4,5,6-Tetrakis(3,6-diphenyl-9H-carbazole-9-yl)isophthalonitrile CAS 1469705-37-0
Identification Methods
HNMR, HPLC
Purity
98% min
Shelf Life
2 years
Storage
Under room temperature away from light; If it is isolated from water and oxygen, it can be stored for a longer time.
Known Application
It is often used as a thermally activated delayed fluorescence (TADF) material.
General View of Documents
Links
This product is developed by our R&D company Watson International Ltd (https://www.watson-int.com/).