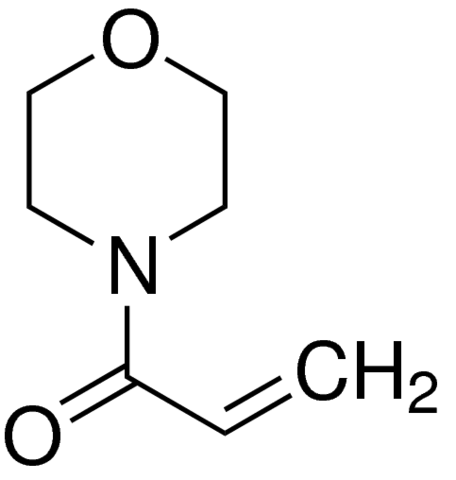 4-Acryloylmorpholine CAS 5117-12-4
Identification
CAS Number
5117-12-4
Name
4-Acryloylmorpholine
Synonyms
1-(4-Morpholinyl)-2-propen-1-on [German] [ACD/IUPAC Name]
1-(4-Morpholinyl)-2-propen-1-one [ACD/IUPAC Name]
1-(4-Morpholinyl)-2-propén-1-one [French] [ACD/IUPAC Name]
2-Propen-1-one, 1-(4-morpholinyl)- [ACD/Index Name]
4-(1-Oxo-2-propenyl)morpholine
418-140-1 [EINECS]
4-Acryloylmorpholine
5117-12-4 [RN]
acryloylmorpholine
Morpholine, 4-(1-oxo-2-propenyl)-
N-Acryloylmorpholine
T6N DOTJ AV1U1 [WLN]
[5117-12-4]
04.12.5117
1-(Morpholin-4-yl)propenone
1-Morpholin-4-ylprop-2-en-1-one
1-Morpholinoprop-2-en-1-one
4-acryloylmorpholine 98%
4-acryloylmorpholine, 97%
4-Acryloylmorpholine, stabilized with 1000 ppm MeHQ
4-Acryloylmorpholine, stabilized with MEHQ
Acryloyl Morpholine
Acryloyl-morpholine polymer
InChI=1/C7H11NO2/c1-2-7(9)8-3-5-10-6-4-8/h2H,1,3-6H
Morpholine, 4-(1-oxo-2-propenyl)-, homopolymer
N-Acrolylmorpholine
Pacm-I
poly(acryloylmorpholine)
SMILES
C=CC(=O)N1CCOCC1
StdInChI
InChI=1S/C7H11NO2/c1-2-7(9)8-3-5-10-6-4-8/h2H,1,3-6H2
StdInChIKey
XLPJNCYCZORXHG-UHFFFAOYSA-N
Molecular Formula
C7H11NO2
Molecular Weight
141.168
MDL Number
MFCD00047413
Properties
Appearance
Colorless transparent liquid
Boiling Point
158℃(50mmHg)
Refractive index
1.508
Density
1.122 g/mL,25/4℃
Surface Tension
44.6mN/m(20℃)
Safety Data
Signal Word
Danger
Personal Protective Equipment
dust mask type N95 (US),Eyeshields,Gloves
WGK Germany
2
Specifications and Other Information of Our 4-Acryloylmorpholine CAS 5117-12-4
Product Features
Acryloyl morpholine is a monofunctional monomer with excellent performance. It is suitable for photocuring reaction and is widely used in products of unsaturated systems such as UV coatings, UV inks, and UV adhesives. Low odor, low irritation, fast response speed, good flexibility, low skin irritation, miscible with water, can be used in water-based UV systems, faster than ordinary monofunctional monomers, and can react with multifunctional monomers The speed is comparable; it has a certain hardness, and the flexibility of the monomer is very good. Within the appropriate addition ratio, the product has both hardness and toughness. Good heat resistance, low viscosity, and good compatibility with resins. Good dispersibility for pigments, low curing shrinkage, good adhesion, etc.
Purity
≥98%
Shelf Life
2 years
Storage
Under room temperature away from light
| | |
| --- | --- |
| Application | Performance advantage |
| UV inkjet inks, 3D printing materials | Low viscosity, compatibility, dispersibility, strong adhesion, water solubility, high curing speed, etc. |
| UV screen printing ink | Compatibility, high dispersibility, low viscosity, high curing speed, low odor, etc. |
| Adhesive | It has good adhesion to different kinds of materials, excellent optical properties, etc. |
| UV coating | Strong adhesion to the substrate, high wear resistance, heat resistance, flexibility and hardness |
| Oilfield drilling | High temperature and salt resistance, hydrolysis resistance, etc. |
| Medical gel | Good adhesion, low irritation, good air permeability, good moisturizing performance, etc. |
Links
This product is developed by our R&D company Watson International Ltd (https://www.watson-int.com/).