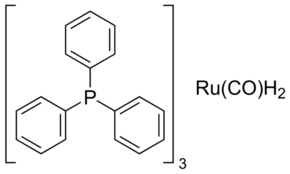 Carbonyldihydridotris(triphenylphosphine)ruthenium CAS 25360-32-1
Identification
CAS Number
25360-32-1
Name
Carbonyldihydridotris(triphenylphosphine)ruthenium
Synonyms
Carbonyl(dihydrido)tris(triphenylphosphine)ruthenium(II)
SMILES
[C-]#[O+].c1ccc(cc1)P(c2ccccc2)c3ccccc3.c1ccc(cc1)P(c2ccccc2)c3ccccc3.c1ccc(cc1)P(c2ccccc2)c3ccccc3.[RhH2]
StdInChI
InChI=1S/3C18H15P.CO.Rh.2H/c31-4-10-16(11-5-1)19(17-12-6-2-7-13-17)18-14-8-3-9-15-18;1-2;;;/h31-15H;;;;
StdInChIKey
WBIIBWMSHZJFCB-UHFFFAOYSA-N
Molecular Formula
C55H47OP3Rh
Molecular Weight
919.788
Properties
Appearance
Grey white to dark gray crystalline powder
Melting Point
160-162°C
Safety Data
Symbol

GHS07
Signal Word
Warning
Hazard statements
H302 + H312 + H332
Precautionary Statements
P280 – P301 + P312 + P330 – P302 + P352 + P312 – P304 + P340 + P312
Personal Protective Equipment
dust mask type N95 (US), Eyeshields, Gloves
RIDADR
NONH for all modes of transport
WGK Germany
3
Specifications and Other Information of Our Carbonyldihydridotris(triphenylphosphine)ruthenium CAS 25360-32-1
Assay
98% min
Ru
10.50% min
Storage
Stored at low temperature after vacuum packaging, can not be operated in air.
Known Application
Catalyst for converting 1,4-alkanediol to pyrrole; Catalyst for oxidation of primary alcohol to methyl ester; Catalyst for rearrangement of oxime to amide; Catalyst for C-C coupling by directional C-H activation; Catalyst for cyclopentane cyclization.
Links
Watson International Ltd
This product is sold exclusively through our sales company Watson International Ltd, and please click the link below for details.
http://www.watson-int.com/carbonyldihydridotris(triphenylphosphine)ruthenium-cas-25360-32-1/