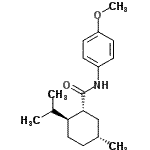 Cooling agent WS12 CAS 68489-09-8
Identification
CAS Number
68489-09-8
Name
Cooling agent WS12
Synonyms
(1R,2S,5R)-2-Isopropyl-N-(4-methoxyphenyl)-5-methylcyclohexancarboxamid [German] [ACD/IUPAC Name]
(1R,2S,5R)-2-Isopropyl-N-(4-methoxyphenyl)-5-methylcyclohexanecarboxamide [ACD/IUPAC Name]
(1R,2S,5R)-2-Isopropyl-N-(4-méthoxyphényl)-5-méthylcyclohexanecarboxamide [French] [ACD/IUPAC Name]
(1R,2S,5R)-N-(4-Methoxyphenyl)-5-methyl-2-(1-methylethyl)cyclohexanecarboxamide
68489-09-8 [RN]
Cyclohexanecarboxamide, N-(4-methoxyphenyl)-5-methyl-2-(1-methylethyl)-, (1R,2S,5R)- [ACD/Index Name]
L6TJ AY1&1 BVMR DO1& D1 &&(1R,2S,5R)- Form [WLN]
WS12
WS-12
(1R,2S)-N-(4-Methoxyphenyl)-5-methyl-2-(1-methylethyl)cyclohexanecarboxamide
(1r,2s)-N-(4-Methoxyphenyl)-5-methyl-2-(1-methylethyl)cyclohexanecarboxamide
(1R,2S,5R)-N-(4-methoxyphenyl)-5-methyl-2-(1-methylethyl)cyclohexane-carboxamide
(1R,2S,5R)-N-(4-METHOXYPHENYL)-5-METHYL-2-(ISOPROPYL)CYCLOHEXANECARBOXAMIDE
(1R,2S,5R)-N-(4-methoxyphenyl)-5-methyl-2-(propan-2-yl)cyclohexane-1-carboxamide
10.1016/j.bmcl.2013.09.016
CHEMBL2441929
WS 12
WS 12;(1R,2S)-N-(4-METHOXYPHENYL)-5-METHYL-2-(1-METHYLETHYL)CYCLOHEXANECARBOXAMIDE
SMILES
C[[email protected]@H]1CC[[email protected]]([[email protected]@H](C1)C(=O)NC2=CC=C(C=C2)OC)C(C)C
StdInChI
InChI=1S/C18H27NO2/c1-12(2)16-10-5-13(3)11-17(16)18(20)19-14-6-8-15(21-4)9-7-14/h6-9,12-13,16-17H,5,10-11H2,1-4H3,(H,19,20)/t13-,16+,17-/m1/s1
StdInChIKey
HNSGVPAAXJJOPQ-XOKHGSTOSA-N
Molecular Formula
C18H27NO2
Molecular Weight
289.413
EINECS
259-404-2
MDL Number
MFCD11100191
Properties
Appearance
Powder
Safety Data
Symbol

GHS09
Signal Word
Warning
Hazard statements
H410
Precautionary Statements
P273
Personal Protective Equipment
dust mask type N95 (US), Eyeshields, Gloves
RIDADR
UN 3077 9 / PGIII
WGK Germany
3
Specifications and Other Information of Our Cooling agent WS12 CAS 68489-09-8
Identification Methods
HPLC
Purity
99% min
Shelf Life
2 years
Storage
Under room temperature away from light
Known Application
WS-12 has a mint-like cooling taste and can be used as a cooling enhancer in oral care, as a cooling agent in chewing gum and children's candy. It can also be used as a cooling agent for skin and lipstick.
Links
Watson International Ltd
This product is sold exclusively through our sales company Watson International Ltd, and please click the link below for details.
http://www.watson-int.com/cooling-agent-ws12-cas-68489-09-8/