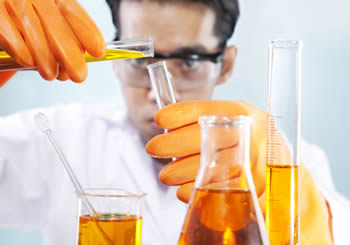 Custom Manufacturing
Specialty Chemicals. Specialized Focus.
Specialty chemicals are what we do and who we are, which has made us a leader in performing complex organic synthesis to provide the highest quality products to meet your exacting custom manufacturing requirements. Need to scale up from lab to pilot to larger volumes? Need custom manufacturing that involves hazardous raw materials? Or toll manufacturing of thousands to hundreds of thousands of pounds? Warshel Performance Products has the technology, capacity and strict environmental safeguards backed by decades of experience and advanced processes to deliver custom chemical solutions on time, every time.
Our Focus is You
Our dedicated staff will work with you to understand your requirements, putting their expertise and in-depth chemical knowledge to work for you to enhance the performance and profitability of your products and processes. Warshel has extensive experience in custom manufacturing solutions across a wide range of markets, including catalysts, adhesives and coatings, aerospace, resins, and many more. Plus, we have a proven record of safely handling many hazardous raw materials and chemicals. Our recognized Environmental, Health, Safety and Quality (EHS&Q) programs include our powerful Integrated Management System, which leverages best practices in Safety, Environmental, and Quality stewardship. Warshel shares your commitment to Safety, Environmental Responsibility, and Quality products and services.
Core Technologies
Using a wide range of manufacturing process technologies, Warshel can custom manufacture virtually any product.
Facilities & Equipment
Technologically-advanced facilities with state-of-the-art equipment to scale up from lab to pilot to commercial scale quickly.
Handling Capabilities
Warshel can safely and efficiently handle any material—from 5 gallon pails to bulk materials including hazardous materials.
Integrated Management System
Unique database system to organize daily operational data in an easy-to-use program for maintaining various certifications.
Key Raw Materials
Experience includes working with a number of hazardous raw materials from pails to bulk quantities.
Process Development
Help developing safe and economical processes for manufacturing specific products on a commercial scale.
Research & Development
Experienced R&D staff dedicated to commercializing economically-viable processes for custom manufactured products.
Testing & Analysis
Around-the-clock access to staff, essential equipment and procedures for precise, consistent analysis to meet strict product quality standards.