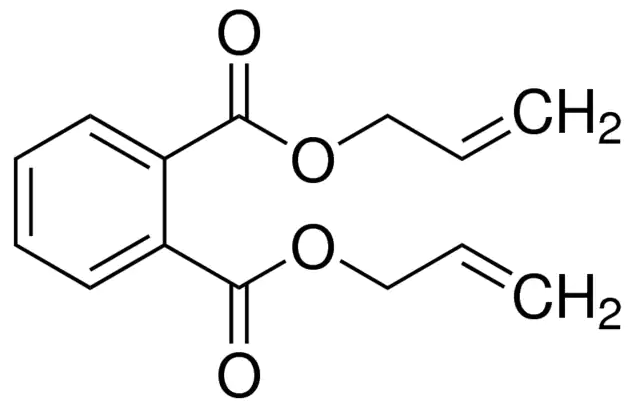 Diallyl phthalate CAS 131-17-9
Identification
CAS Number
131-17-9
Name
Diallyl phthalate
Synonyms
1,2-Benzenedicarboxylic acid, di-2-propen-1-yl ester [ACD/Index Name]
1,2-Bis(prop-2-en-1-yl) benzene-1,2-dicarboxylate
131-17-9 [RN]
205-016-3 [EINECS]
25053-15-0 [RN]
CZ4200000
Diallyl phthalate [ACD/IUPAC Name]
Diallyl phthalate resin
Diallyl-phthalat [German] [ACD/IUPAC Name]
diprop-2-en-1-yl benzene-1,2-dicarboxylate
MFCD00008646 [MDL number]
Phtalate de diallyle [French] [ACD/IUPAC Name]
Phthalic acid, diallyl ester (8CI)
[131-17-9]
1,2-Benzenedicarboxylic acid 1,2-di-2-propen-1-yl ester
1,2-Benzenedicarboxylic acid, 1,2-di-2-propen-1-yl ester
1,2-Benzenedicarboxylic acid, di-2-propenyl ester
1,2-Benzenedicarboxylicaciddi-2-propenylester
124743-27-7 [RN]
143318-73-4 [RN]
3,5-diiodo-2-methyl benzoic acid
3,5-Diiodo-2-methylbenzoic acid [ACD/IUPAC Name]
4-09-00-03188 [Beilstein]
4-09-00-03188 (Beilstein Handbook Reference) [Beilstein]
ALLYL PHTHALATE
benzene-1,2-dicarboxylic acid diallyl ester
bis(prop-2-enyl) benzene-1,2-dicarboxylate
C049098
Dap
DAP monomer
Dapon R
dapon r.
Di-2-propenyl 1,2-benzenedicarboxylate
diallyl benzene-1,2-dicarboxylate
Diallyl ester of phthalic acid
Diallyl ester o-phthalic acid
diallyl phthalate 98%
Diallyl Phthalate Monomer, DAP
diallyl phthalate, 97%
diallyl phthalate, 98%
Diallyl phthalic acid
Diallylester kyseliny ftalove [Czech]
Diallylester kyseliny ftalove
Diallylester kyseliny ftalove [Czech]
diallylester phthalic acid
DIALLYLPHTHALATE
diprop-2-enyl benzene-1,2-dicarboxylate
EINECS 205-016-3
http:////www.amadischem.com/proen/543273/
InChI=1/C14H14O4/c1-3-9-17-13(15)11-7-5-6-8-12(11)14(16)18-10-4-2/h3-8H,1-2,9-10H
NCGC00091365-02
Nonflammable decobest da
Nonflammable decobest DA (Salt/Mix)
o-phthalic acid diallyl ester
o-Phthalic acid, diallyl ester
phthalic acid diallyl ester
Phthalic acid, bis-allyl ester
Phthalic acid, diallyl ester
POLY(DIALLYL PHTHALATE)
prop-2-enyl 2-(prop-2-enyloxycarbonyl)benzoate
RX 1-501N (Salt/Mix)
RX 3-1-530 (Salt/Mix)
ST5405391
WLN: 1U2OVR BVO2U1
SMILES
C=CCOC(=O)c1ccccc1C(=O)OCC=C
StdInChI
InChI=1S/C14H14O4/c1-3-9-17-13(15)11-7-5-6-8-12(11)14(16)18-10-4-2/h3-8H,1-2,9-10H2
StdInChIKey
QUDWYFHPNIMBFC-UHFFFAOYSA-N
Molecular Formula
C14H14O4
Molecular Weight
246.259
EINECS
205-016-3
Beilstein Registry Number
1880877
MDL Number
MFCD00008646
Properties
Appearance
Colorless or light-yellow transparent liquid
Boiling Point
157-165°C
Density(20℃)
1.105-1.115
Safety Data
Symbol


GHS07, GHS09
Signal Word
Warning
Hazard statements
H302 + H332 – H317 – H410
Precautionary Statements
P261 – P273 – P280 – P301 + P312 – P302 + P352 – P304 + P340 + P312
Personal Protective Equipment
dust mask type N95 (US), Eyeshields, Gloves
RIDADR
NONH for all modes of transport
WGK Germany
3
MSDS Download
Specifications and Other Information of Our Diallyl phthalate CAS 131-17-9
Identification Methods
HNMR, HPLC
Assay
≥99%
Viscosity (20℃, Mpa.S)
12-14CPS
Color (APHA)
≤40
Water
≤0.1%
Solidifying Point
-70°C
Refraction Rate (25℃)
1.516-1.518
Acid Value
≤0.2 mgKOH/g
Iodine Value
≥200 g/100g
Shelf Life
2 years
Storage
Store at room temperature, sealed and away from light.
Known Application
It is often used as a reactive plasticizer for the preparation of diisopropyl phthalate resin, as a crosslinking agent for unsaturated polyester resin, and as a reinforcing agent for cellulose resin. And it is used as a plasticizer for resins that can self-polymerize without inhibitors. It is used to make poly(dipropylene phthalate) resin, cross-linking agent for unsaturated polyester resin, plasticizer for vinyl resin, catalyst for polyester resin and pigment carrier, etc. At the same time as many polymers and copolymer monomers.
Links
This product is developed by our R&D company Watson International Ltd (https://www.watson-int.com/).