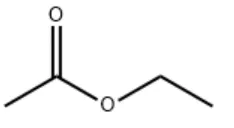 ETHYL ACETATE CAS 141-78-6
Identification
CAS Number
141-78-6
Name
ETHYL ACETATE
Synonyms
141-78-6 [RN]
205-500-4 [EINECS]
506104 [Beilstein]
Acetate d'ethyle [French]
Acétate d'éthyle [French] [ACD/IUPAC Name]
Acetato de etilo [Spanish]
Acetic acid, ethyl ester [ACD/Index Name]
Aethylacetat [German]
ethanoic acid ethyl ester
Ethyl acetate [ACD/IUPAC Name] [Wiki]
ethyl acetic ester
Ethyl ethanoate
ethylacetaat [Dutch]
Ethyl-acetat [German] [ACD/IUPAC Name]
Ethylester kyseliny octove [Czech]
Ethylis acetas
EtOAc [Formula]
117121-81-0 [RN]
1-acetoxyethane
270062-85-6 [RN]
2OV1 [WLN]
acetic acid ethyl ester
Acetidin
acetoxyethane
AcOEt [Formula]
Aethylacetat
Essigester [German]
Essigester, Ethyl ester
Essigsaeureethylester [German]
ethyl 2,2,2-trideuterioacetate
Ethyl Acetate Biosynthesis
Ethyl Acetate, GlenDry, anhydrous
Ethyl ethanoate, Acetic ester, Ethyl ester
Ethylacetat
ethylacetate
Ethylacetate, pure, Ph. Eur.
Ethylazetat
Ethyl-d5 acetate-d3
EtOAc205-500-4MFCD00009171
LC-MS
MFCD00001836 [MDL number]
MFCD00009185 [MDL number]
Octan etylu [Polish]
vinegar naphtha
WLN: 2OV1
SMILES
CCOC(=O)C
StdInChI
InChI=1S/C4H8O2/c1-3-6-4(2)5/h3H2,1-2H3
StdInChIKey
XEKOWRVHYACXOJ-UHFFFAOYSA-N
Molecular Formula
C4H8O2
Molecular Weight
88.105
EINECS
205-500-4
Beilstein Registry Number
506104
MDL Number
MFCD00009171
Properties
Appearance
Transparent ilquid,no visible impurities
Safety Data
Symbol


GHS02, GHS07
Signal Word
Warning
Hazard statements
H225 – H319 – H336
Precautionary Statements
P210 – P233 – P240 – P241 – P242 – P305 + P351 + P338
WGK Germany
3
MSDS Download
Specifications and Other Information of Our
Identification Methods
HNMR, HPLC
Purity
99.5% min
Ethanol
≤0.10%(m/m)
Acidity(as acetic acid)
≤0.004%(m/m)
Moisture
≤0.05%(m/m)
Residue on evaporation
≤0.001%(m/m)
Density(20°C)
0.897-0.902(g/cm3)
Chromaticity(in Hazen)
≤10(Pt-Co)
Known Application
ETHYL ACETATE CAS 141-78-6 is applied to prepare perfumes, acting as headspace volatile to dispatch fresh fruity. It has mellow effect while using in perfume. It is an edible spice stipulated in GB 2760, applying to supply fragrance, make grains or spills of spices, and cooperate vinegar brewage. It can also be applied to wine spirits Ethyl acetate can also be used to synthesize some intermediates of dyestuffs and medicines. It can be used as extractant for special modified alcohol, pharmaceutical processes and organic acids In electronics industry, ethyl acetate is used as degreaser during cleaning process. In textile industry, it is used as detergent.

General View of Documents
Links
This product is sold exclusively through our sales company Watson International Limited, and please click the link below for details (https://www.watson-int.com/).