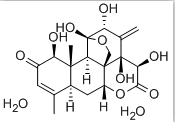 Eurycomanone CAS 84633-29-4
Identification
CAS Number
84633-29-4
Name
Eurycomanone
Synonyms
(1β,11α,12α,15β)-1,11,12,14,15-Pentahydroxy-11,20-epoxypicrasa-3,13(21)-dien-2,16-diondihydrat [German] [ACD/IUPAC Name]
(1β,11α,12α,15β)-1,11,12,14,15-Pentahydroxy-11,20-epoxypicrasa-3,13(21)-diene-2,16-dione dihydrate [ACD/IUPAC Name]
(1β,11α,12α,15β)-1,11,12,14,15-Pentahydroxy-11,20-époxypicrasa-3,13(21)-diène-2,16-dione, dihydrate [French] [ACD/IUPAC Name]
Picrasa-3,13(21)-diene-2,16-dione, 11,20-epoxy-1,11,12,14,15-pentahydroxy-, (1β,11α,12α,15β)-, hydrate (1:2) [ACD/Index Name]
84633-29-4 [RN]
SMILES
CC1=CC(=O)[[email protected]]([[email protected]]2([[email protected]]1C[[email protected]@H]3[[email protected]]45[[email protected]@H]2[[email protected]]([[email protected]@H](C(=C)[[email protected]@]4([[email protected]](C(=O)O3)O)O)O)(OC5)O)C)O.O.O
StdInChI
InChI=1S/C20H24O9.2H2O/c1-7-4-10(21)13(23)17(3)9(7)5-11-18-6-28-20(27,16(17)18)12(22)8(2)19(18,26)14(24)15(25)29-11;;/h4,9,11-14,16,22-24,26-27H,2,5-6H2,1,3H3;2*1H2/t9-,11+,12+,13+,14-,16+,17+,18+,19-,20-;;/m0../s1
StdInChIKey
RRXCMOJNEHOTBC-MHDOEDTOSA-N
Molecular Formula
C20H28O11
Molecular Weight
444.430
MDL Number
MFCD01704311
Properties
Appearance
White crystalline powder
Melting Point
273-285℃ (methanol ethyl ether )
Boiling Point
669.5±55.0 °C(Predicted)
Safety Data
WGK Germany
3
Specifications and Other Information of Our Eurycomanone CAS 84633-29-4
Identification Methods
HPLC
Purity
1%-15%
Shelf Life
2 years
Storage
Under room temperature away from light.
Known Application
It has the effects of cutting off malaria, dampening yellowing, aphrodisiac, improving physical strength and vitality, reducing fatigue, sterilization, anti-ulcer and antipyretic.
Links
Watson International Ltd
This product is sold exclusively through our sales company Watson International Ltd, and please click the link below for details.
http://www.watson-int.com/eurycomanone-cas-84633-29-4/