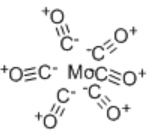 Molybdenum hexacarbonyl CAS 13939-06-5
Identification
CAS Number
13939-06-5
Name
Molybdenum hexacarbonyl
Synonyms
[13939-06-5]
[Mo(CO)6]
carbon monooxide- molybdenum(6:1)
Hexacarbonylmolybdenum
hexacarbonylmolybdenum(0)
HEXAKIS(CARBON MONOXIDE) MOLYBDENUM
hexakis(methanidylidyneoxidanium) molybdenum
MFCD00003466 [MDL number]
Molybdenum carbonyl
Molybdenum carbonyl (Mo(CO)6) (8CI)
Molybdenum carbonyl (Mo(CO)6), (OC-6-11)-
Molybdenum carbonyl, Molybdenum hexacarbonyl
Molybdenum carbonyl; Molybdenum hexacarbonyl
Molybdenum carbonyl|Hexacarbonylmolybdenum(0)
Molybdenum hexacarbonyl
Molybdenumhexacarbonyl
O=[C][Mo]([C]=O)([C]=O)([C]=O)([C]=O)[C]=O
QA-3932
SMILES
[C-]#[O+].[C-]#[O+].[C-]#[O+].[C-]#[O+].[C-]#[O+].[C-]#[O+].[Mo]
StdInChI
InChI=1S/6CO.Mo/c6*1-2;
StdInChIKey
KMKBZNSIJQWHJA-UHFFFAOYSA-N
Molecular Formula
C6MoO6
Molecular Weight
264.001
EINECS
237-713-3
MDL Number
MFCD00003466
Properties
Appearance
White powder
Structure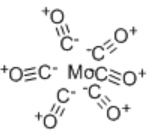 Structure of Molybdenum hexacarbonyl CAS 13939-06-5
Safety Data
Symbol

GHS06
Signal Word
Warning
Hazard statements
H331
Precautionary Statements
P261 – P271 – P304 + P340 + P311 – P403 + P233 – P405 – P501
WGK Germany
3
MSDS Download
Specifications and Other Information of Our
Identification Methods
HNMR, HPLC
Purity
99% min
Heavy Metals
Water
Loss on Drying
Residue on Ignition
Single Impurity
Total Impurities
Shelf Life
2 years
Storage
Known Application
Molybdenum hexacarbonyl is a coordination compound formed by the transition metal molybdenum and carbon monoxide ligands. It is a white powder, volatile, and stable in air. It is used as a catalyst, a raw material for molybdenum deposition by thermal decomposition, and an intermediate in organic synthesis. It can also be used for refining molybdenum powder, producing carbonyl molybdenum powder, similar to carbonyl tungsten powder, and serves as an essential material for molybdenum thin-film deposition.
General View of Documents
Links
This product is sold exclusively through our sales company Watson International Limited, and please click the link below for details (https://www.watson-int.com/).