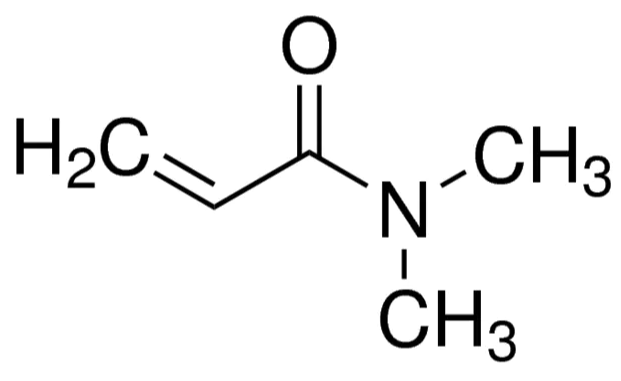 N,N-Dimethylacrylamide CAS 2680-03-7
Identification
CAS Number
2680-03-7
Name
N,N-Dimethylacrylamide
Synonyms
DMAA;
NNDMA
N,N-Dimethylacrylamide [ACD/IUPAC Name]
220-237-5 [EINECS]
2680-03-7 [RN]
2-Propenamide [ACD/Index Name]
2-Propenamide, N,N-dimethyl- [ACD/Index Name]
Acrylamide, N,N-dimethyl-
Acryloyldimethylamine
AS46JK7Q6I
Dimethyl acrylamide
Dimethylamid kyseliny akrylove [Czech]
MFCD00008626 [MDL number]
N,N-Dimethyl acrylamide
N,N-Dimethyl-2-propenamide
N,N-Dimethylacrylamid [German] [ACD/IUPAC Name]
N,N-Diméthylacrylamide [French] [ACD/IUPAC Name]
N,N-Dimethylprop-2-enamide
N,N-Dimethylpropenamide
UNII:AS46JK7Q6I
[2680-03-7]
07.03.2680
4-04-00-00189 [Beilstein]
68761-83-1 [RN]
Acylamide, N,N-dimethyl
Dimethylamid kyseliny akrylove
Dimethylamid kyseliny akrylove [Czech]
EINECS 220-237-5
FR-1241
n n-dimethylacrylamide
N, N-Dimethylacrylamide
N,N-Dimethylacrylamide (en)
N,N-Dimethylacrylamide contains 500 ppm monomethyl ether hydroquinone as inhibitor
N,N-Dimethylacrylamide, stabilized with 500ppm MEHQ
Propenamide, N,N-dimethyl-
SBB008330
UNII-AS46JK7Q6I
SMILES
C=CC(=O)N1CCOCC1
StdInChI
InChI=1S/C5H9NO/c1-4-5(7)6(2)3/h4H,1H2,2-3H3
StdInChIKey
YLGYACDQVQQZSW-UHFFFAOYSA-N
Molecular Formula
C5H9NO
Molecular Weight
99.131
MDL Number
MFCD00008626
Properties
Appearance
Colorless or light yellow transparent liquid
Boiling Point
171~172℃(760mmHg)
Refractive index
1.4723
Density
1.122 g/mL,25/4℃
Surface Tension
37.1mN/m(20℃)
Safety Data
WGK Germany
3
Specifications and Other Information of Our N,N-Dimethylacrylamide CAS 2680-03-7
Product Features
DMAA is a kind of amide monomer with excellent performance. It can be used in free radical photocuring reaction and is widely used in unsaturated systems such as UV coatings, UV inks, and UV adhesives. Good adhesion, active chemical properties, and good hydrophilicity; it has good adhesion to most substrate materials. DMAA monomer has double bonds and amide groups, so it is easy to interact with various monomers. Kind of polymerization reaction; it can be miscible with water, has strong hygroscopicity, suitable for anti-fog coating, ultra-low viscosity, good compatibility with resin, low curing shrinkage, good adhesion, etc.
Purity
≥98%
Shelf Life
2 years
Storage
Under room temperature away from light
| | |
| --- | --- |
| Application | Performance advantage |
| Contact lens | Excellent hydrophilic properties |
| Photographic and printed materials | Copolymers and homopolymers of DMAA can be used as a substitute for gelatin for lighting, as a dyeing dispersant and modifier component of color film. It can also be used as the component of pressure-sensitive printing paper and pressure-sensitive adhesive layer of color printing paper, as well as the chemical component of photosensitive resin. |
| Adhesive | It has good adhesion to different kinds of materials, excellent optical properties, etc. |
| Papermaking chemicals (dry strength agent) | Improve paper dry strength |
| Oilfield drilling | Improve the temperature and salt resistance and hydrolysis resistance of oilfield chemicals |
| Medical gel | Good adhesion, low irritation, good air permeability, good moisturizing performance, etc. |
Links
This product is developed by our R&D company Watson International Ltd (https://www.watson-int.com/).