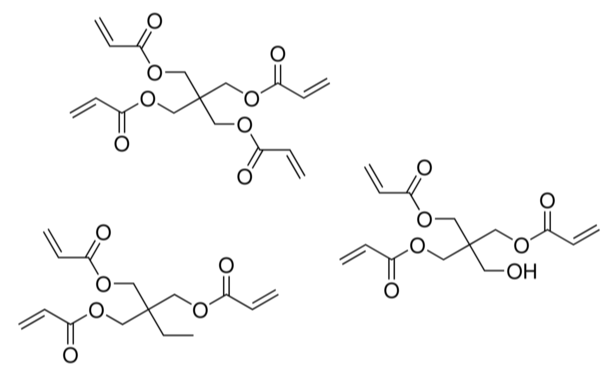 Pentaerythritoltriacrylate CAS 3524-68-3
Identification
CAS Number
3524-68-3
Name
Pentaerythritoltriacrylate
Synonyms
222-540-8 [EINECS]
2-propenoic acid, 3-hydroxy-2,2-bis[[(1-oxo-2-propen-1-yl)oxy]methyl]propyl ester
3-(Acryloyloxy)-2-[(acryloyloxy)methyl]-2-(hydroxymethyl)propyl acrylate [ACD/IUPAC Name]
3-(acryloyloxy)-2-[(acryloyloxy)methyl]-2-(hydroxymethyl)propyl prop-2-enoate
3-(acryloyloxy)-2-[(acryloyloxy)methyl]-2-(hydroxymethyl)propyl prop-2-enoate (non-preferred name)
3-(Acryloyloxy)-2-[(acryloyloxy)methyl]-2-(hydroxymethyl)propyl-acrylat [German] [ACD/IUPAC Name]
3524-68-3 [RN]
Acrylate de 3-(acryloyloxy)-2-[(acryloyloxy)méthyl]-2-(hydroxyméthyl)propyle [French] [ACD/IUPAC Name]
MFCD00009607 [MDL number]
Pentaerythritol triacrylate
Pentaerythrityl triacrylate
PETA
UD3370000
(2-hydroxymethyl)-2-(((1-oxo-2-propenyl)oxy)methyl)-2-propenoic acid 1,3-propanediyl ester
[2-(hydroxymethyl)-3-prop-2-enoyloxy-2-(prop-2-enoyloxymethyl)propyl] prop-2-enoate
[3524-68-3]
2-((Acryloyloxy)methyl)-2-(hydroxymethyl)propane-1,3-diyl diacrylate
2-(Hydroxymethyl)-2-(((1-oxoallyl)oxy)methyl)-1,3-propanediyl diacrylate
2-(hydroxymethyl)-2-[[(1-oxoallyl)oxy]methyl]-1,3-propanediyl diacrylate
2,2-bis(hydroxymethyl)propane-1,3-diol; 2-propenoic acid
2,2-bis(prop-2-enoyloxymethyl)-3-hydroxypropyl prop-2-enoate
204270-19-9 [RN]
2-Propenoic acid, 1,1′-[2-(hydroxymethyl)-2-[[(1-oxo-2-propen-1-yl)oxy]methyl]-1,3-propanediyl] ester
2-Propenoic acid, 2-(hydroxymethyl)-2-(((1-oxo-2-propenyl)oxy)methyl)-1,3-propanediyl ester
2-Propenoic acid, 2-(hydroxymethyl)-2-[[(1-oxo-2-propenyl)oxy]methyl]-1,3-propanediyl ester
3-hydroxy-2,2-bis[(prop-2-enoyloxy)methyl]propyl prop-2-enoate
4-[(2,6-Dichlorobenzoyl)amino]-N-4-piperidinyl-1H-pyrazole-3-carboxamide methanesulfonate
85205-48-7 [RN]
89900-19-6 [RN]
98036-34-1 [RN]
98866-06-9 [RN]
acrylic acid [2,2-bis(acryloyloxymethyl)-3-hydroxy-propyl] ester
acrylic acid pentaerythritol triester
acrylic acid, 2-(hydroxymethyl)-2-{[(1-oxo-2-propenyl)oxy]methyl}propane-1,3-diyl ester
Acrylic acid, pentaerithritol triester
Acrylic acid, triester with pentaerythritol
Aronix M 305
AT 7519 mesylate
EINECS 222-540-8
Gafgard 233
http:////www.amadischem.com/proen/606632/
Kayarad PET 30
Light Acrylate PE 3A
NCGC00091432-02
NK Ester A-TMM 3
NK Ester A-TMM 3L
NK Ester TMM 50T
P 300 (acrylate)
Pentaerithritol triacrylate
Pentaerythritol triacrylate, stab. with 300-400ppm 4-methoxyphenol
PENTAERYTHRITOLTRIACRYLATE
PETA (Pentaerythritol triacrylate)
PETIA
prop-2-enoic acid [2-(hydroxymethyl)-3-(1-oxoprop-2-enoxy)-2-(1-oxoprop-2-enoxymethyl)propyl] ester
Propenoic acid 2-(hydroxymethyl)-2-[[(1-oxo-2-propenyl)oxy]methyl]-1,3-propanediyl ester
Sartomer SR 444
Setalux UV 2242
SR 444C
TETRAMETHYLOLMETHANE TRIACRYLATE
SMILES
C=CC(=O)OCC(CO)(COC(=O)C=C)COC(=O)C=C
StdInChI
InChI=1S/C14H18O7/c1-4-11(16)19-8-14(7-15,9-20-12(17)5-2)10-21-13(18)6-3/h4-6,15H,1-3,7-10H2
StdInChIKey
HVVWZTWDBSEWIH-UHFFFAOYSA-N
Molecular Formula
C14H18O7
Molecular Weight
298.289
EINECS
222-540-8
MDL Number
MFCD00009607
Properties
Appearance
Colorless transparent liquid
Safety Data
WGK Germany
3
Specifications and Other Information of Our Pentaerythritoltriacrylate CAS 3524-68-3
Identification Methods
HNMR, HPLC
Purity
98% min
| | |
| --- | --- |
| Test indicators | Specification |
| Acid value(mg KOH/g) | ≤1.0 |
| Color(APHA) | ≤100 |
| Viscosity at 25℃(cps) | 600~1000 |
| Water(%) | ≤0.2 |
| Polymerization Inhibitor(ppm) | ≤400 |
| Tg(℃) | 104 |
| Refractive Index | 1.487 |
| Surface Tension(dyne/cm) | 38 |
Package
25KG/drum or 200KG/drum
Shelf Life
12 months
Storage
In order to prevent the product from polymerizing and gelling, please seal it and store it away from heat and sunlight.
Advantage
Medium viscosity, low volatility, fast curing; high hardness and chemical resistance of the cured coating film;
Known Application
Commonly used in the synthesis of UV resin, wood coatings, PVC coatings, plastic coatings, metal coatings, offset printing inks, screen printing, overcoat varnishes, etc.
Links
This product is developed by our R&D company Watson International Ltd (https://www.watson-int.com/).