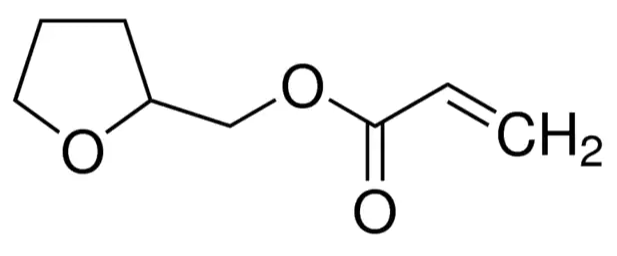 THFA CAS 2399-48-6
Identification
CAS Number
2399-48-6
Name
THFA
Synonyms
Tetrahydrofurfuryl acrylate
(Tetrahydro-2-furanyl)methyl 2-propenoate
(Tetrahydrofuran-2-yl)methyl acrylate
219-268-7 [EINECS]
2399-48-6 [RN]
2-Propenoic acid, (tetrahydro-2-furanyl)methyl ester [ACD/Index Name]
Acrylate de tétrahydro-2-furanylméthyle [French] [ACD/IUPAC Name]
Acrylic acid, tetrahydrofurfuryl ester (6CI,7CI,8CI)
KC4X335T45
MFCD00014516 [MDL number]
Tetrahydro-2-furanylmethyl acrylate [ACD/IUPAC Name]
Tetrahydro-2-furanylmethyl-acrylat [German] [ACD/IUPAC Name]
Tetrahydrofuran-2-ylmethyl acrylate
tetrahydrofuran-2-ylmethyl prop-2-enoate
THFA
UD3670893
UNII:KC4X335T45
(oxolan-2-yl)methyl prop-2-enoate
100666-89-5 [RN]
135266-19-2 [RN]
136219-66-4 [RN]
2-Propenoic acid, tetrahydrofurfuryl ester
acrylic acid tetrahydrofurfuryl ester
ACRYLIC ACID, TETRAHYDROFURFURYL ESTER
Light Acrylate THF-A
oxolan-2-ylmethyl prop-2-enoate
Sartomer 285
Sartomer 302
Tetrahydrofurfuryl acrylate (stabilized with MEHQ)
Tetrahydrofurfurylacrylate
Viscoat 150
SMILES
C=CC(=O)OCC1CCCO1
StdInChI
InChI=1S/C8H12O3/c1-2-8(9)11-6-7-4-3-5-10-7/h2,7H,1,3-6H2
StdInChIKey
YNXCGLKMOXLBOD-UHFFFAOYSA-N
Molecular Formula
C8H12O3
Molecular Weight
156.179
EINECS
219-268-7
MDL Number
MFCD00014516
Properties
Appearance
Colorless transparent liquid
Safety Data
WGK Germany
3
Specifications and Other Information of Our THFA CAS 2399-48-6
Identification Methods
HNMR, HPLC
Purity
98% min
| | |
| --- | --- |
| Test indicators | Specification |
| Acid value(mg KOH/g) | ≤0.5 |
| Color(APHA) | ≤80 |
| Viscosity at 25℃(cps) | 3~12 |
| Water(%) | ≤0.2 |
| Polymerization Inhibitor(ppm) | ≤300 |
| Density (g/mL,25/4℃) | 1.064 |
| Tg(℃) | -20 |
| Refractive Index | 1.458 |
| Surface Tension(dyne/cm) | 36.1 |
Package
25KG/drum or 200KG/drum
Shelf Life
12 months
Storage
In order to prevent the product from polymerizing and gelling, please seal it and store it away from heat and sunlight.
Advantage
Excellent adhesion to most substrates, especially good adhesion to PC; strong dilution; good softening effect, very soft film formation; excellent water resistance, chemical resistance.
Known Application
Commonly used in the synthesis of UV resins, UV adhesives, 3D UV printing, UV nail polish, UV inkjet, etc.
Links
This product is developed by our R&D company Watson International Ltd (https://www.watson-int.com/).