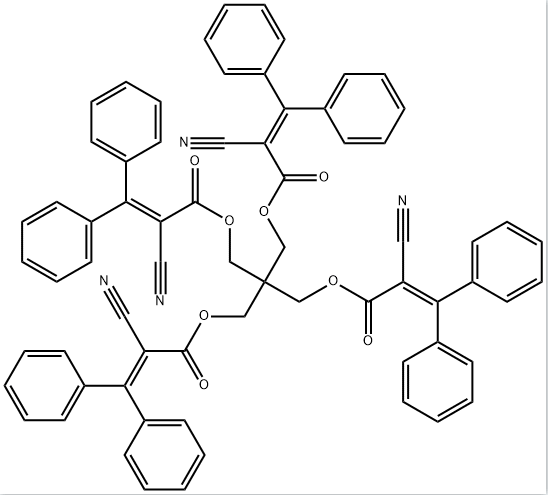 Ultraviolet absorber UV-3030 CAS 178671-58-4
Identification
CAS Number
178671-58-4
Name
Ultraviolet absorber UV-3030
Synonyms
2-cyano-3,3-diphenyl-2,2-bis(((2-cyano-1-oxo-3,3-diphenyl-2-propenyl)oxy)methyl)-1,3-propanediyl ester2-propenoic acid
2-Cyano-3,3-diphénylacrylate de 3-[(2-cyano-3,3-diphénylacryloyl)oxy]-2,2-bis{[(2-cyano-3,3-diphénylacryloyl)oxy]méthyl}propyle [French] [ACD/IUPAC Name]
2-PROPENOIC ACID, 2-CYANO-3,3-DIPHENYL-2,2-BIS(((2-CYANO-1-OXO-3,3-DIPHENYL-2-PROPENYL)OXY)METHYL)-1,3-PROPANEDIYL ESTER
3-[(2-Cyan-3,3-diphenylacryloyl)oxy]-2,2-bis{[(2-cyan-3,3-diphenylacryloyl)oxy]methyl}propyl-2-cyan-3,3-diphenylacrylat [German] [ACD/IUPAC Name]
3-[(2-Cyano-3,3-diphenylacryloyl)oxy]-2,2-bis{[(2-cyano-3,3-diphenylacryloyl)oxy]methyl}propyl 2-cyano-3,3-diphenylacrylate [ACD/IUPAC Name]
[178671-58-4]
178671-58-4 [RN]
2,2-Bis(((2-cyano-3,3-diphenylacryloyl)oxy)methyl)propane-1,3-diyl bis(2-cyano-3,3-diphenylacrylate)
2,2-Bis(((2-cyano-3,3-diphenylacryloyl)oxy)methyl)-propane-1,3-diyl bis(2-cyano-3,3-diphenylacrylate)
2,2-Bis(((2-cyano-3,3-diphenylacryloyl)oxy)methyl)propane-1,3-diylbis(2-cyano-3,3-diphenylacrylate)
2-Propenoic acid, 2-cyano-3,3-diphenyl-, 2,2-bis(2-cyano-1-oxo-3,3-diphenyl-2-propenyl)oxymethyl-1,3
DS-18062
http:////www.amadischem.com/proen/551455/
LS-181634
MFCD21607536 [MDL number]
P428PY6477
tert-Butyl 4-vinylpiperidine-1-carboxylate
UNII:P428PY6477
UNII-P428PY6477
UVINUL 3030
SMILES
c1ccc(cc1)C(=C(C#N)C(=O)OCC(COC(=O)C(=C(c2ccccc2)c3ccccc3)C#N)(COC(=O)C(=C(c4ccccc4)c5ccccc5)C#N)COC(=O)C(=C(c6ccccc6)c7ccccc7)C#N)c8ccccc8
StdInChI
InChI=1S/C69H48N4O8/c70-41-57(61(49-25-9-1-10-26-49)50-27-11-2-12-28-50)65(74)78-45-69(46-79-66(75)58(42-71)62(51-29-13-3-14-30-51)52-31-15-4-16-32-52,47-80-67(76)59(43-72)63(53-33-17-5-18-34-53)54-35-19-6-20-36-54)48-81-68(77)60(44-73)64(55-37-21-7-22-38-55)56-39-23-8-24-40-56/h1-40H,45-48H2
StdInChIKey
CVSXFBFIOUYODT-UHFFFAOYSA-N
Molecular Formula
C69H48N4O8
Molecular Weight
1061.14
Properties
Appearance
White or off white crystalline powder
Melting Point
174~178°C
Safety Data
WGK Germany
2
Specifications and Other Information of Our Ultraviolet absorber UV-3030 CAS 178671-58-4
Identification Methods
HNMR, HPLC
Purity
99% min
Volatile matter
≤0.5%
Transmissirity
460nm≥99%; 500nm≥99%
Shelf Life
2 years
Storage
Under room temperature away from light
Package
25kg Carton
Properties
UV-3030 can strongly absorb ultraviolet rays with a wavelength of 280nm~320nm, and has good thermal stability and low volatility.
Known Application
Mainly used for PA, PET ,especially suitable for PC.
Links
Watson International Ltd
This product is sold exclusively through our sales company Watson International Ltd, and please click the link below for details.
http://www.watson-int.com/ultraviolet-absorber-uv-3030-cas-178671-58-4/