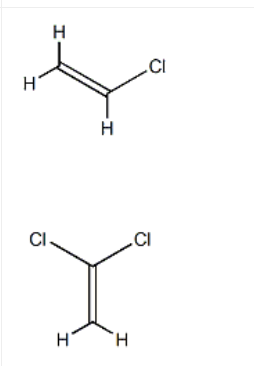 vinyl chloride-co-vinylidene chloride CAS 9011-06-7
Identification
CAS Number
9011-06-7
Name
vinyl chloride-co-vinylidene chloride
Synonyms
1,1-dichloro-ethylenpolymerwithchloroethylene;breon202;breoncs100/30;chloroethylene-1,1-dichloroethylenepolymer;daran;darancr6795h;dow874;dowlatex874
Molecular Formula
C4H5Cl3
Molecular Weight
159.4415
Properties
Appearance
Milky white emulsion
Safety Data
Symbol
Signal Word
Warning
WGK Germany
3
MSDS Download
Specifications and Other Information of Our
Identification Methods
HNMR, HPLC
Content
≥40%
Surface Tension mn/m
≤40
Unreacted Monomer
≤2.0%
Calcium Chloride Yield
≤10%
Intrinsic Viscosity(Ubbelohde 20°c)
0.3-0.5
Shelf Life
half of a year
Storage
Store at room temperature, sealed and away from light
Known Application
Vinyl chloride-co-vinylidene chloride is widely used in anti-seepage engineering and formulated into coatings for various purposes, such as moisture-proof coatings, anti-mildew coatings, fire-resistant coatings, floor coatings, concrete curing liquid, polymerized cement mortar, etc.
Moisture-proof coating: used in underground caverns, which can keep the relative humidity in the warehouse below 70% all the year round.
Floor paint: use emulsion to prepare 206 varnish paint and brush it on the polyvinyl formal cement coating, which is bright, wear-resistant and highly decorative, and can be widely used in civil and industrial building floors.
Polymerized cement mortar: The emulsion is added to cement and yellow sand according to the formula to prepare polymerized cement mortar with high bonding strength and water seepage resistance up to 15KG/CM2.
Concrete curing liquid: LP-37 concrete curing liquid prepared with emulsion, sprayed on the concrete surface after pouring and tamping, can replace the traditional straw bale watering and curing, the effect is good, and the price is only 1/3 of the straw bale method.
Anti-mildew coating: LP water-based anti-mold coating has a mildew-resistant performance of "0 grade", strong washing resistance, up to 300 times, and water resistance, acid and alkali resistance. It is an ideal water-based anti-mold coating. It is suitable for interior wall coatings in light industry, food, aquatic products, tobacco and alcohol, etc. which are prone to mildew damage.
General View of Documents
Links
This product is sold exclusively through our sales company Watson International Limited, and please click the link below for details(http://www.watson-int.com/).