Watson-12 CAS 84434-11-7&162881-26-7
Identification
CAS Number
84434-11-7&162881-26-7
Name
Watson-12
Synonyms
Photo-initiator 2100;Ethyl(2,4,6-trimethylbenzoyl)phenylphosphinate(RBcure TPO-L)&bis(2,4,6-trimethylbenzoyl)-phenylphosphine oxide (irgacure 819)
EINECS
282-810-6&423-340-5
Properties
Appearance
clear viscous yellow liquid
Safety Data
WGK Germany
3
Specifications and Other Information of Our Watson-12 CAS 84434-11-7&162881-26-7
Identification Methods
UV
Purity
95% min
Package
20kg/drum, 640kg/Pallet;1000L IBC; Customized Package Acceptable
Storage
RBcure-2100 is sensitive to visible light and any exposure to sunlight should be avoided. Opened drums should be sealed after use to protect the product from light. RBcure-2100 will freeze when stored below –20 °C (–4 °F). Stored for extended periods of time below
6 °C (43 °F), some crystallization may occur. In both cases, the product is restored to its original form by stirring at room temperature for a short time.
Known Application
RBcure-2100 may be used in UV-curable formulations for clear and for pigmented coatings on wood, metal, plastic, paper and optical fibers as well as for printing inks, composites and adhesives. For patent reasons, however, the use of this product is not allowed in dental applications. RBcure-2100 is suitable for white pigmented formulations, wood fillers and UV-stabilized, UV curable varnishes.
It is especially suitable for white pigmented formulations with minimal yellowing after curing and for coatings with low pigment volume concentration.
Suitable UV-curable formulations may be based on acrylate resins, acrylate monomer systems and unsaturated polyesters. As a liquid photo-initiator, RBcure-2100is especially easy to incorporate into formulations.
RBcure-2100 can be used as a sole photo-initiator but in most cases combinations with other photo-initiators, e.g., α-hydroxy ketones or phenyl glyoxylates, will give improved balance between through- and surface-curing performance.
General View of Documents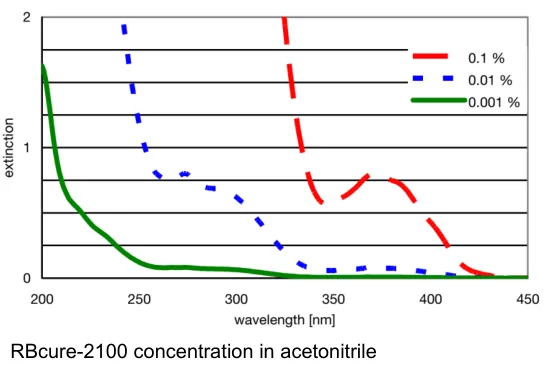 Links
Watson International Ltd
This product is sold exclusively through our sales company Watson International Ltd, and please click the link below for details.
http://www.watson-int.com/watson-12-cas-84434-11-7&162881-26-7/