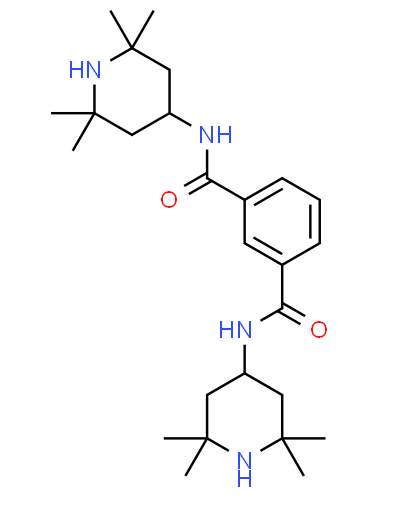 Light Stabilizer 856 CAS 42774-15-2
Identification
CAS Number
42774-15-2
Name
Light Stabilizer 856
Synonyms
1,3-Benzenedicarboxamide, N1,N3-bis(2,2,6,6-tetramethyl-4-piperidinyl)- [ACD/Index Name]
N,N'-Bis(2,2,6,6-tétraméthyl-4-pipéridinyl)isophtalamide [French] [ACD/IUPAC Name]
N,N'-Bis(2,2,6,6-tetramethyl-4-piperidinyl)isophthalamid [German] [ACD/IUPAC Name]
N,N'-Bis(2,2,6,6-tetramethyl-4-piperidinyl)isophthalamide [ACD/IUPAC Name]
N,N'-Bis(2,2,6,6-tetramethylpiperidin-4-yl)isophthalamide
1,3-Benzenedicarboxamide, N,N'-bis(2,2,6,6-tetramethyl-4-piperidinyl)-
1,3-BENZENEDICARBOXAMIDE, N1,N3-BIS(2,2,6,6-TETRAMETHYL-4-PIPERIDINYL)-
1,3-Benzenedicarboxamide,N,N'-bis(2,2,6,6-tetramethyl-4-piperdinyl)
212059-00-2 [RN]
42774-15-2 [RN]
MFCD09751152
N,N'-Bis(2,2,6,6-tetramethyl-4-piperidinyl)-1,3-benzenedicarboxamide
N,N'-BIS-(2,2,6,6-TETRAMETHYL-4-PIPERIDINYL)-1,3-BENZENEDICARBOXAMIDE
N1,N3-Bis(2,2,6,6-tetramethylpiperidin-4-yl)isophthalamide
SMILES
CC1(CC(CC(N1)(C)C)NC(=O)c2cccc(c2)C(=O)NC3CC(NC(C3)(C)C)(C)C)C
StdInChI
InChI=1S/C26H42N4O2/c1-23(2)13-19(14-24(3,4)29-23)27-21(31)17-10-9-11-18(12-17)22(32)28-20-15-25(5,6)30-26(7,8)16-20/h9-12,19-20,29-30H,13-16H2,1-8H3,(H,27,31)(H,28,32)
StdInChIKey
OYNOCRWQLLIRON-UHFFFAOYSA-N
Molecular Formula
C26H42N4O2
Molecular Weight
442.65
Properties
Appearance
White crystalline powder
Melting point
272 ± 2℃
Safety Data
WGK Germany
3
Specifications and Other Information of Our Light Stabilizer 856 CAS 42774-15-2
Identification Methods
HPLC
Purity
98% min
Water
0.139(30℃)
Solubility(g/100 solution)
dimethylacetamide110(20℃)
Acetic acid
250(20℃)
Caprolactam
>5(75℃)
Volatility ( TGA )
Loss in weight ( N2, 1 O℃/min )
10% ( 354℃ )
Storage
It is recomended to store it in a closed container under cool and dry conditions. ltshould behandled with care according to normal industrial practice. Avoid unnecessary dust and avoid direct contact with skin, eyes and clothing. Ensure good ventila­tion and keep away from fire.
Package
20KG/Carton
Known Application
UV一856 is a new multifunctional nylon additive that combines several beneficial properties in one molecule. Due to its unique molecular structure, UV-856 is resistant to the reductive environment of nylon melts and acts as a melt stabilizer and processing modifier. This effect has been proved by the high stability of nylon melt pressure and results in high quality nylon injection and extrusion Products, as well as lower yarn breakage rates during fiber spinning.
Links
Watson International Ltd
This product is sold exclusively through our sales company Watson International Ltd, and please click the link below for details.
http://www.watson-int.com/light-stabilizer-856-cas-42774-15-2/